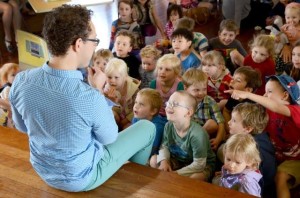 I am available to read my books to children in kindergarten/preschool, prep/reception in conjunction with a fun and interactive literacy development workshop.
Contact me to arrange a booking for your class.
"We were lucky enough to have Ben visit our centre last term and the children were absolutely engaged and enthralled by the humour and rhyme in his storybook. He is an amazing story reader and we loved joining in the chorus when he sang his story for us. This experience was further enriched by Ben's story-building workshop with which the children engaged enthusiastically and felt an ownership of the story we created together." – Robbie, C&K Wilston Grange
"Just wanted to thank you for coming in to share your books with us. You were so entertaining, and many of the children mentioned your session as the best part of their day. One of the girls even suggested we try write another group story, with their own illustrations and send it to you. (You've inspired the next generation of authors and illustrators!)" – Christine, C&K Lutwyche Windsor
Workshops
I am also available to provide creative writing workshops to people of all ages in a group or individual setting.
Contact me for more information.