Inspiring enthusiasm in learners and teachers alike.
Ben draws on the arts as a means to involve aspects of creativity, communication and community in learning, to help keep education engaging for all involved.
Also see Book Readings.
For Schools
Literacy K-P
Ben provides readings of his book, Tickle Me Zoo, to kindy and prep classes, in conjunction with a fun story and illustration workshop.
Numeracy 1-6
In these workshops, Ben explores the fun of mathematical patterns and their existence in our lives.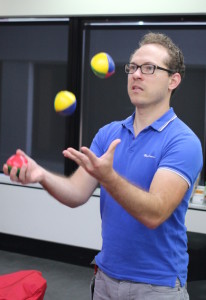 Juggling – In this workshop, Ben demonstrates the link between mathematics and juggling, and he teaches the children how to juggle for themselves.
Music – In this workshop, Ben gets the class to compose a piece of music based on the application of mathematical patterns.
Poetry – In this workshop, Ben shows how patterns can be used to create fun rhythmic rhymes. By following the formula, the students create their own unique poem.
Keeping Secrets – In this workshop, Ben demonstrates basic algebra concepts and how they can be used to keep messages secret. (Note that this workshop works best with the upper of the primary years, with more competent readers/writers.)
Literacy 7-12
Developing characters for stories – In this workshop, Ben demonstrates how to create characters for story writing. In particular, he suggests a useful process for thinking of characteristics and how to extrapolate on these to give the characters more depth.
Puppetry – In this workshop, Ben introduces simple puppetry techniques to engage an audience. (There is also potential here to explore options for community engagement.)
For Teachers
Ben is also available to provide workshops to teachers to describe his methods.